500 years of Martin Luther's September Testament 1522
Saturday, 13 August, 12:00 pm

–

4:00 pm

AEST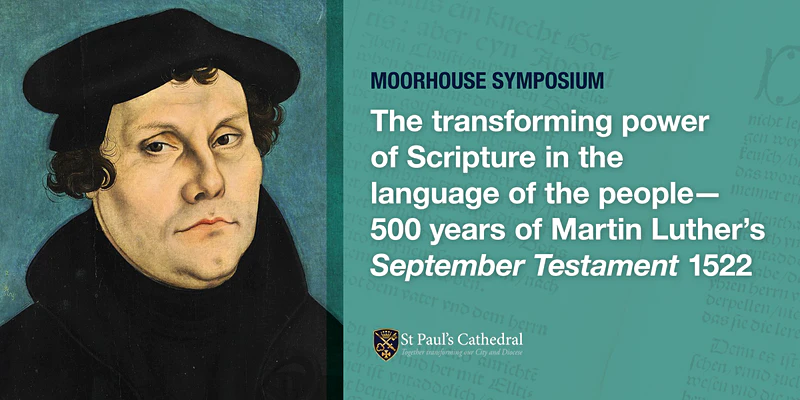 Moorhouse Symposium
The transforming power of Scripture in the language of the people – 500 years of Martin Luther's September Testament 1522
About this event
The translation of the Bible into the language of the people was one of the break-through moments in the life of the Christian church.
In this afternoon symposium, theologians from Melbourne and overseas will assess the impact of vernacular translations of the Scriptures. Presenters include: Ashley Null (keynote lecturer), Peter Adam OAM, Rhys Bezzant, Bob Derrenbacker, Katherine Firth, Andreas Loewe, Dorothy Lee FAHA and Andreas Stegmann.
Get Tickets
Speakers
The Revd Canon Dr Peter Adam OAM, Emeritus Canon of St Paul's Cathedral, is a former Vicar of St Jude's, and Principal of Ridley College, Melbourne.
The Revd Canon Dr Rhys Bezzant FRHistS is Dean of the Anglican Institute at Ridley College, and Senior Lecturer in Church History. His research interests focus on Christianity in America. He has recently published Edwards the Mentor (OUP) and is presently translating a biography of St Francis of Assisi from German (YUP).
The Revd Canon Associate Professor Bob Derrenbacker is Dean of Trinity College Theological School, and Frank Woods Associate Professor in New Testament, The University of Divinity.
Dr Katherine Firth is a poet, author and translator. She manages the academic programs at International House, the University of Melbourne, Her latest book, Martin Luther and the Arts (Brill), co-authored with Andreas Loewe, will be published later this year.
The Very Revd Dr Andreas Loewe FRHistS is Dean of Melbourne and a Fellow and Lecturer at the Melbourne Conservatorium of Music, The University of Melbourne, with publications on the Lutheran, Henrician and Catholic Reformations and the theology of the music of JS Bach.
The Revd Canon Professor Dorothy Lee FAHA is Stewart Research Professor of New Testament at Trinity College Theological School, the University of Divinity.
The Revd Canon Dr Ashley Null FRHistS, FSA is Visiting Fellow in Cranmer Research at the Humboldt-Universität zu Berlin, Germany, and Canon Theologian of St Mark's Anglican Pro-Cathedral, Alexandria, Egypt, as well as the Episcopal Diocese of Western Kansas.
Dr Andreas Stegmann is Lecturer (Privatdozent) in church history at the at the Humboldt-Universität zu Berlin, Germany. His research interests lie in Lutheran church history, with an emphasis on Wittenberg, Berlin and Brandenburg, and story of the German church under the Nazi regime and during communism.