2022 Association of Practical Theology in Oceania Conference
Wednesday, 30 November

–

Friday, 2 December

$50 – $250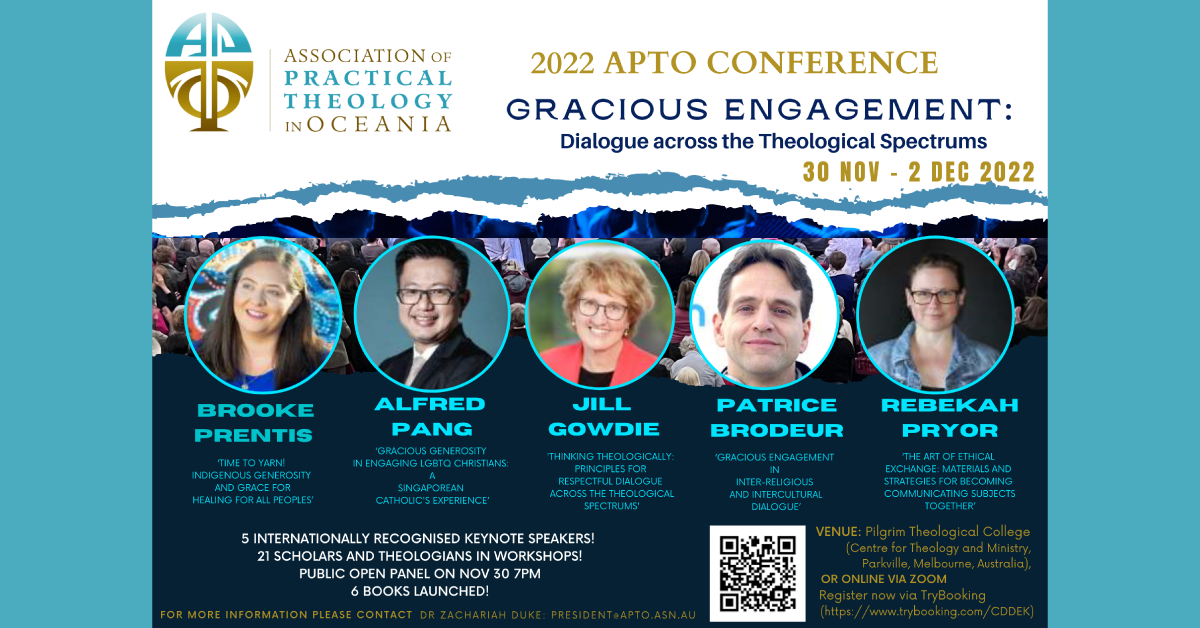 The 2022 Association of Practical Theology in Oceania Conference is being held at Pilgrim Theological College and online, 30 November – 2 December 2022.
The title of the conference is: Gracious Engagement – Dialogue across the theological spectrums
Dialogue across the theological spectrums has always been an important component of practical theology. "No peace among the nations, without peace among the religions. No peace among the religions without dialogue between the religions. No dialogue between the religions without investigation of the foundation of the religions" (Hans Kung, 1997).
How do we navigate those complex spaces of religious and theological difference in both ideas and practices? A respectful, participatory and collaborate approach seems sensible. Respect for each other's diverse experiences and viewpoints is vital. After all, theology plays an important role in the search for a synthesis of knowledge as well as in the dialogue between faiths. However, practice within diversity does not necessarily flow into participation and collaboration, not to mention understanding and peace.
What does a gracious engagement in dialoguing across the theological spectrums look like? How can we best learn about the theological other and engage with each other across the theological spectrums in ways that are comfortable, polite, meaningful, challenging? Basically, in a way that is gracious? And what is the nature and role of dialogue in the engagement? We want to convert our diversity into healthy dialogue, a symphony and multiplicity of theological voices.
More information and detail about keynote speakers and panellists can be found here: 2022 APTO Conference (updated 17 November 2022).
In-person registrations close at 5pm on Monday, 28 November 2022 and online registrations can continue being accepted until the end of the conference.
Register now