by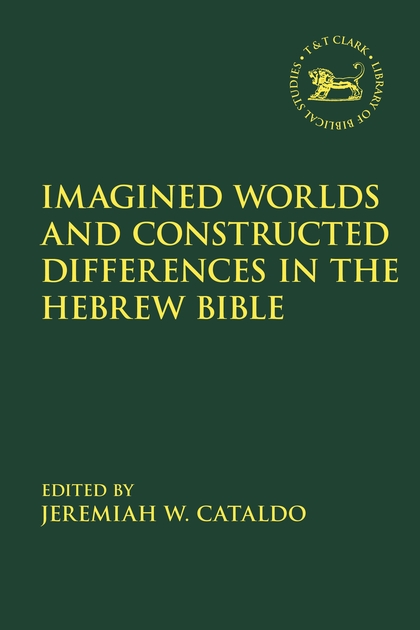 Alsen, Carolyn. "Veiled Resistance: The Cognitive Dissonance of Vision in Genesis 38." Chapter 5 in Imagined Worlds and Constructed Differences in the Hebrew Bible. Edited by Jeremiah Cataldo. Library of Hebrew Bible Old Testament Series 677. London: Bloomsbury T&T Clark, 2019.
Abstract:
The characterisation of Tamar in Gen 38 is that of a double dissonance in her public appearance: a kind of Janus trickster. There are two sides and seemingly contradictory aspects of her actions. She is displaying herself as both normative and deviant in relation to the social world of the Hebrew Bible by her visual covering and uncovering. The visual judgments of Judah, his friend Hirah, and various onlookers are partially obscured to the reader by this strategy. Rabbinical sources try to make sense of the declaration that Tamar is more righteous than Judah, but through Judah's visual motives, the ambiguity still stands. Both as a woman, and as a member of an ethnic community, Tamar represents a strategy of concealing and revealing herself according to the different political visual contexts of public and private. Her intentions and personal vision are not exposed, but are indexed by the wearing of such coverings as her veil, and her social position in the urban space. Her veil is used very differently to that of Rebekah or historiographic evidence from ancient West Asia. Instead of using the veil to denote conformity, she extends the meaning of compliance to an extent to which she transforms it into a resistance garment. She is the wearer of a garment that hides her features, but the garment itself is an indexation of a persona which is both self-objectifying and effective in gaining social agency. Tamar's veil, when considered through the lens of sociology of the postcolonial spectacle of the veil, is the sign by which she controls her own representation of otherness. Public space as a place of postcolonial feminist negotiation of identity becomes the generator of themes in Genesis 38, such as public and private religion, orthodoxy and heterodoxy and Ezraic marriage politics.
The purpose of this volume is twofold: to introduce readers to the study of cultural memory and identity in relation to the Hebrew Bible, and to set up strategies for connecting studies of the historical contexts and literature of the Bible to parallel issues in the present day.
The volume questions how we can better understand the divide between insider and outsider and the powerful impact of prejudice as a basis for preserving differences between "us" and "them"? In turn the contributors question how such frameworks shape a community's self-perception, its economics and politics. Guided by the general framework of Anderson's theory of nationalism and the outsider, such issues are explored in related ways throughout each of the contributions. Each contribution focuses on social, economic, or political issues that have significantly shaped or influenced dominant elements of cultural memory and the construction of identity in the biblical texts. Together the contributions present a larger proposal: the broad contours of memory and identity in the Bible are the products of a collective desire to reshape the social-political world.
Preface
Acknowledgments
Abbreviations
1. Introduction - Jeremiah W. Cataldo, Grand Valley State University, USA - Jeremiah W. Cataldo, Grand Valley State University, USA
Part I: Models and Memories: Theories on the Formation and Impact of Cultural Memories
2. Social Sciences Models and Mnemonic/Imagined Worlds: Exploring Their Interrelations in Ancient Israel - Ehud ben Zvi, University of Alberta, USA
Part II: Imagined Worlds with Real Impacts: Strategies for Interpreting Economic, Political, and Social Impacts of Imagined Communities
3. The Assassination of Amon and the Crisis of Assyrian Imperialism - Brad Crowell, Drake University, USA
4. Nehemiah's Socio-economic Reform: Principles and Accomplishments - Kyong-Jin Lee, Fuller Theological Seminary, USA
5. Veiled Resistance: The Cognitive Dissonance of Vision in Genesis 38 - Carolyn Alsen, University of Divinity; Australian Catholic University, Australia
6. Those At Ease Have Contempt For Misfortune Biblical Approaches To Challenging Anti Poor Sentiment - Matthew Coomber, St. Ambrose University, USA
7. A Taste for Wisdom: Aesthetics, Moral Discernment, and Social Class in Proverbs - Mark Sneed, Lubbock Christian University, USA
Part III: Benedict Anderson's "Nationalism" and the Outsider: Building Communities by Rejecting Differences; and the Limits of the Bible's Imagined World/Community
8. Biblical Strategies for Reinterpreting Crises with "Outsiders" - Jeremiah Cataldo, Grand Valley State University, USA
9. Multinationality and the Utopian Project: The Case of Actually Existing Israel - Roland Boer, Renmin University of China, China
Bibliography
Index
Excerpt:
New essay by UD Researcher, Dr Carolyn Alsen, included in a volume of Library of Hebrew Bible/Old Testament Studies. Due for release in August 2019.